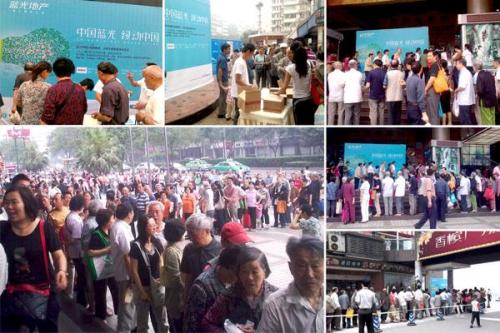 On May 28th, Blu-ray Real Estate responded to the "Green China Campaign 2011" series of activities, "The free replacement of millions of energy-saving lamps, light up the green life of Chinese families" was unfolded. It is understood that the event is also being launched in major cities across the country. It is only carried out in Chengdu on 15 locations. Citizens can collect a brand-new energy-saving lamp for free at any designated place by simply taking a used bulb. The activity was greatly welcomed by the general public. The hot exchange at the scene was hot and the enthusiasm of the public for energy-saving and low-carbon environmental protection rose rapidly.
Since the "Green China" national large-scale environmental protection initiative jointly initiated by the China Environment Protection Foundation and Sina Locke was launched on May 16th, well-known enterprises and individuals from all walks of life have responded and actively participated. On May 23rd, Blu-ray Real Estate as the first real estate company responding to the large-scale environmental protection activities vocally supported "Green China", and last weekend's redemption of energy-saving lamps was the first of Blue Green's response to "Green China" large-scale environmental protection activities. Field landing.
According to relevant person in charge of Blu-ray real estate, on May 28th and 29th, all citizens can include Blu-ray · SOFA Community, Blu-ray · Yunding, Blu-ray · Jinnan House, Blu-ray · Fairview City, Blu-ray · Four-leaf City Fluorescent lamps can be exchanged in 15 places including the Blue Ray Santa Fe Town, Blu-ray and Guanling International Community. At the same time, in the sales center of the above-mentioned Blu-ray sales project, all green sign printing environmental promise cards and the implementation of the Green Convention content that everyone agrees on can be used to receive a Chengdu Tianfu Pass "green handprint low-carbon travel card".
On the day of the event, at one of the event venues, from 8am onwards, nearby citizens took home the used bulbs to exchange for energy-saving lamps. "The energy-saving lamps are good, they are power-saving and durable, and the family just broke one, and I'll change them!" said Mr. Zhang, a citizen, exultingly in exchange for energy-saving lamps. A young couple said to the reporter: "This is a very meaningful thing. After listening to friends, we will line up early." During the period, from time to time, the long queues receive energy-saving lamps, causing A lot of people watched the crowd. After learning more details, many citizens joined the army. The exchange points like Blue Caribbean, Champagne Plaza, and Century Computer City have also experienced a situation where supply falls short of demand. The public has to change places and find ways.
According to professionals, most brands of energy-saving lamps can save 60%-80% energy compared to ordinary light bulbs. "As a private enterprise, Blu-ray Real Estate can take the lead in joining green fingerprinting and environmental protection activities, and it will guide the whole society to practice green and low-carbon. It gives us more confidence in China's green environmental protection business." The above professional evaluation said.
Blu-ray has always taken the lead in social welfare activities. Blu-ray said that to treat social charity does not reflect its own capabilities, but should establish a high degree of social responsibility, make full use of the company's own capabilities, and drive the entire industry and more people into social welfare. According to statistics, in terms of disaster relief, Blu-ray has donated 10 million yuan each time to the disaster area in the wake of the Wenchuan earthquake in 2008 and the 7.1 magnitude earthquake in Yushu, Qinghai Province in 2010. In terms of student assistance, Blu-ray has successively launched charity activities such as "Winter Clothes for Students", "Spiritual Homeland", "Love Book House", and "Volunteer Organization of Sichuan Chengdu Blu-ray Student Learning Foundation" with social influence. For more than 20 years, the Blu-ray Group has involved dozens of public welfare undertakings such as helping students, helping the poor, relieving disasters, and helping orphans. By 2010, the total amount of donations received by charitable organizations for public charity has reached 140 million yuan.
Blu-ray said that participating in the "Green China" large-scale environmental protection activity is not deliberately pursuing to be the first company to respond. On the one hand 2011 is the year of Blu-ray green life, 2011 Green China's large-scale public welfare activities and Blu-ray "green strategy" Conversely, on the other hand, for any public-good behavior that has far-reaching influence on society, Blu-ray will continue its tradition and do its best to promote it. In addition, Blu-ray Real Estate will also be more environmentally friendly in its future development projects. From products to lifestyles, it will actively guide the public to practice green life. Therefore, Blu-ray Real Estate is willing to take more social responsibilities and truly do something that can lead the society's green and low-carbon life.
It is understood that the "2011 Green China" large-scale event has now entered its final climax. The China Green Giants initiative jointly initiated by the China Environment Protection Foundation and Sina Leju is in the hot voting stage, focusing on the official Weibo@2011 Green China. Voted for a vote to influence the society with the power of benchmarking, and promote the public's good sense of green life.
We are iPhone battery manufacturer can supply Original TI IC for customer needs,iPhone 7 Replacement Battery with TI IC have 100% compatiable with iOS lastest system. iPhone 7 battery with TI IC is more stable performance than other IC,that is why we high recommend this option.
We have 3 quality levels for you choose : MOQ 100pcs/each item.
| | | | |
| --- | --- | --- | --- |
| | A | AA | Difference on Performance: |
| Cell: | TY/GF Cell | VK Cell | VK Cell higher 50-100mAh than TY/GF |
| Protection Board: | ZY/ZW | TI (Original) | TI compatiable with iOS lastest system |
| | AA | AAA | AAAA |
| Option 1 | TY Cell+ZY/ZW | | |
| Option 2 | GF Cell+ZY/ZW | | |
| Option 3 | | VK Cell+ZY/ZW | |
| Option 4 | | TY Cell+TI | |
| Option 5 | | GF Cell+TI | |
| Option 6 | | | VK Cell+TI |
Advantage:

1. TI IC is original method for iPhone Battery .
2. Charging more faster, less fever heat to save battery life.
3. Accurate battery power monitoring.
4. Keep stable performance and controlable temperture.
5. The battery with TI IC more safe, charge more faster, lasts longer life.
iPhone 7 Replacement Battery,iPhone 7 Li-ion Battery,iPhone 7 battery with TI IC,iPhone 7 Li-ion Battery with TI,iPhone 7 Battery
Shenzhen Aokal Technology Co., Ltd. , https://www.aokal.com