Zhongzhao.com On February 15, China Mobile Communications Group Hangzhou Branch (hereinafter referred to as "Hangzhou Mobile") joined hands with Huawei and Zhejiang University Network New Yisheng to complete the construction and verification of Binjiang Smart Lighting Demonstration Zone. The demonstration area was launched in Shilan Micro Park, Binjiang District, Hangzhou, and the first batch of 20 NB-IoT street lamps were built and installed.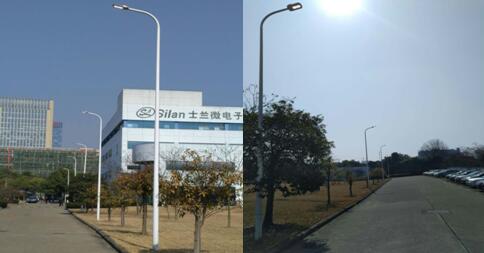 (Smart light pole photo)
Compared with traditional sodium lamps, LED street lamps are more than 60% energy-efficient, and the global LED street lamps currently occupy only about 12%. In the next five years, with the accelerated growth of LED lights and the need for further secondary intelligent energy conservation, the use of advanced lighting control methods to achieve a complete division, time-sharing, hierarchical management of smart lighting will become a new impetus for the development of lighting energy-saving field. . According to the predictions of relevant institutions, the global smart street lamp compound growth rate will reach 16%, the domestic street lamps will total 30 million baht, and the development space is broad.
The government policy is currently based on promoting the development of LED industry and energy conservation and emission reduction, and gradually extending to the field of intelligent control. The Notice of the 13th Five-Year Plan for Printing and Distributing Zhejiang Province Energy Saving and Distributing Issued by the Office of the Zhejiang Development and Reform Commission on October 20, 2016 In the paper, it is proposed to promote the application of energy-saving technology products, promote the government procurement of high-quality energy-saving products in Zhejiang, and implement the "green lighting project" for road tunnels. By 2020, the average energy consumption per kilometer of highway tunnels will be reduced by 30%.
According to the prediction of relevant institutions, 140,000 intelligent street lamps in Xihu District, Jianggan District, Xiacheng District, Gongshu District and Shangcheng District of Hangzhou City will be reconstructed, and a total of 200,000 street lamps in Yuhang, Fuyang and Xiasha will also enter the itinerary. .
Source: China Information Industry Network Editor: Deng Dawen
Washing and Ironing Appliances
tcl , https://www.tclgroupss.com