According to the statistics of the High-tech LED Industry Research Institute (GLII), the total output value of China's LED chip industry in 2010 reached 4 billion yuan, a year-on-year increase of 100%. In 2010, China's LED chip companies swept the previous years' average growth rate of enterprises below 10%, and the sales revenue of most large-scale enterprises has increased substantially.
The following is the 2010 China LED chip company sales ranking: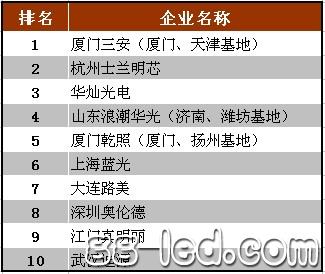 Note: Only the sales data of LED epitaxial chips of various enterprises are counted: Gaogong LED Industry Research Institute
According to GLII statistics, the total sales of China's top ten LED chip companies exceeded RMB 2.7 billion, accounting for nearly 70% of the total output value of China's LED chip industry in 2010, a slight decrease compared with 2009.
The sales of the top ten LED chip companies in China are all above 100 million yuan, most of which are China's old LED chip companies, of which the top seven companies have sales of more than 200 million yuan.
As a leading company in China's LED chip industry, Xiamen Sanan continued to rank first in terms of LED chip sales of 590 million yuan in 2010.
As of March 2011, the number of MOCVD units introduced by Sanan Optoelectronics' Wuhu plant exceeded 60 units. According to the plan, Sanan Optoelectronics will complete the introduction of 107 MOCVD in Wuhu by the end of June 2011, and the second phase of the project has also started, and plans to introduce another 93 MOCVD. At the same time, the Wuhu government has increased financial support for Sanan. The MOCVD subsidy for Sanan Optoelectronics has been raised by 20% from the original 8 million and 10 million, and the red and yellow and green lights are 9.6 million yuan and 12 million yuan respectively.
After the 200 MOCVDs introduced by Sanan Optoelectronics Wuhu in the first half of 2012 were put into production, the total MOCVD number of Sanan Optoelectronics exceeded 235. Since the newly introduced machines of Sanan Optoelectronics are all above 31 and 45, it is expected that The production capacity will be almost equal to Taiwan's Jingyuan Optoelectronics, and will exceed the production scale of Jingyuan Optoelectronics' base in Taiwan. In 2012, Sanan Optoelectronics is expected to occupy a place in the global LED chip field.

Fujifilm Instax Camera Accessories fits all your favorite Fuji Camera accessories. Product variety satisfies your different needs. Camera bags and cases can prevent your camera from dust and scratch; Photo albums and frames can display your photos to your friends also preserve the happy memories of your daily life; Color filters and selfie lens can change your photos to a new style; Photo stickers and camera stickers can personalized your photos and camera. Photo Stickers will decorate not only your pictures but also the Photo Album that holds them. Camera Stickers will give a new appearance to the camera.Practical design and exquisite workmanship, high quality assurance, lightweight and extremely durable of all the accessories.
Camera Accessories
Camera Accessories,Camera Angle Prime Lens,Action Camera Accessories,Camera Photo Album
GuangZhou CAIUL Digital Products CO,.LTD. , https://www.caiul-instax.com